ROCK CITY GRILL REWARDS PROGRAM
50 points for signing up

Double points on your first visit in your birthday month

1 point for every $1 spent

$25 put on your Reward's card for every 250 points

Every 5 Large pizzas you get your 6th one free
Points are earned one point per dollar spent at Rock City Grill and the Blue Martini Bar. Keep your eye out for chances to earn extra points along the way! And, look for special deals just for Reward Cards members. That's because loyalty has its rewards!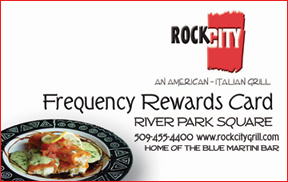 Birthday Club
Did you know that as part of the Birthday club you get a free pizza on your birthday? Rewards Club members also get double points!! Don't worry we're not gonna spam you or give your info to anyone else, we're gonna use it to send you a free pizza coupon on your birthday and a few other misc. promotions, coupons, newsletter, etc. throughout the year, but not a ton crap. Participation is voluntary and you can opt out at anytime, but why would you want to?
SIGN UP NOW!!! It's this easy......
MAKE A RESERVATION
To book a table, you can call us at (509) 455-4400 OR click on the link below.
Our GI-NORMOUS MUD PIE is one of our most popular sellers: Layers of Kona coffee and chocolate ice creams, covered in whipped cream and chocolate sauce on a chocolate cookie crust. This one is great for sharing! 7.25